Fasten your seat belts folks, you are in for a long, bumpy ride.
The first week of July found us well into the swim season. All the kids doing impressively well compared to themselves last year. Afton doing really well for the team too.
4th of July weekend found us with a day off and nothing to do so we planned a beach trip. ***For the record, this is NOT exaggerated*** We got up on Friday July 3rd. Packed the van and headed out of town about 10:30am. 17 miles and 2 hours later we decided that being stuck in that kind of traffic wasn't worth it. So we turned around and 20 minutes later found ourselves swimming in the pool at the Cabana Club with the bbq fired up and almost ready for hot dog roasting. No sand, but the water was nice, practically had the pool to ourselves and the bathrooms were awesome!!
July 4th found us at the Fremont 4th of July parade. So.Fun. I love parades. We spent the rest of the day getting ourselves ready for girls camp. We even went to bed before fireworks started.
Monday July 6th was the first day of girls camp. I was the YCL certification leader (youth camp leader; girls 16-18 years old), Jaime was a JC (junior counselor) and Alix was a 3rd level. We were all pretty excited to go. The week was wreaked with all kinds of unexpected events that will now make really good stories….
-Hail. Lots of hail one day after dinner.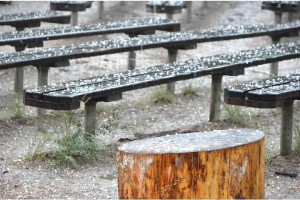 -Rain. Lots of rain for 3 days.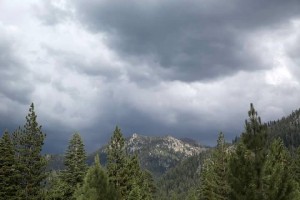 -YCL's. Such a fun group of girls!

-Survivor. The 3rd and 4th level overnight hike I guess was like a scene out of Survivor. I don't really know, I wasn't there and I've never seen the show, but that's what I heard (from LOTS of people). Unfortunately a lot of that survivor stuff involved Alix. Hypothermia and such words were thrown at me as soon as we all got back to camp. With a little help from knowledgeable people and LOTS of help from God, everyone is happy and healthy and excited to retell the tale of surviving the hike.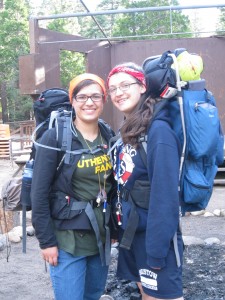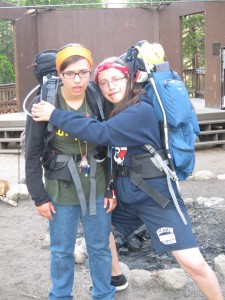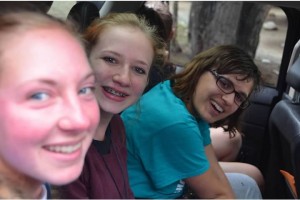 -Caves. YCL's and their leaders (me) got to go explore some caves. That was super cool!!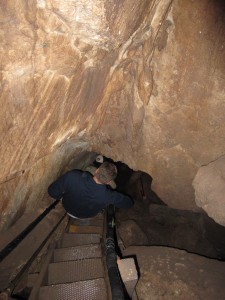 -Pictures. LOTS of pictures. Favorite one of the YCL's and leaders taken in an old time setting.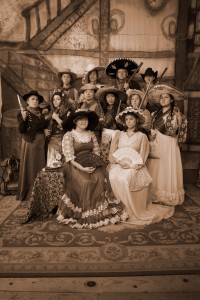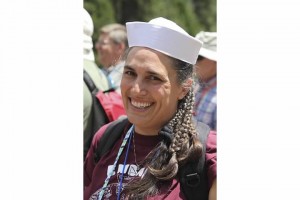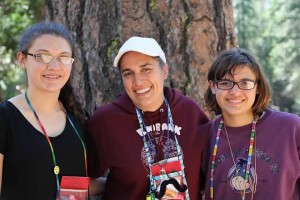 LOVE THESE girls most!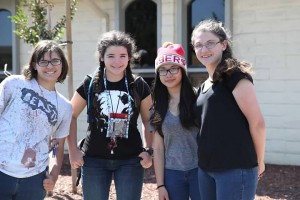 Home at last! (Alix, Jessie, Psyche and Jaime)

A challenging week for Alix, but she kept her smile on.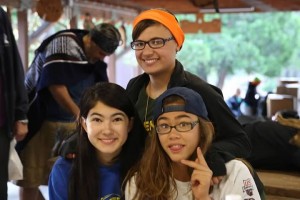 Only 3 girls in Alix's level (stake wide!). Makes for some interesting challenges.
-Commercials. Being part of a "commercial" during dinner one night with two of the coolest people in our stake was classic!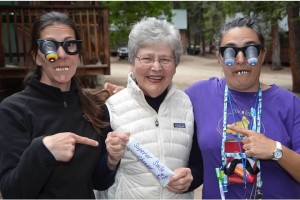 -Winning. My team not winning the Friday games was a bit disappointing but talking trash and "fainting" when we didn't win was AWESOME and fun.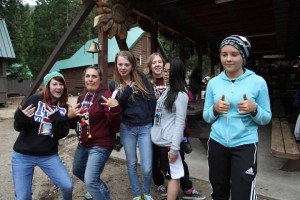 -Birthday. Jaime celebrated her 16th birthday at camp. It was actually the day of the overnight hike. So she spent her birthday backpacking in rainy, cold weather. But her leaders did a GREAT job of making the birthday memorable. The next day during dinner she was presented with a cupcake on a turny thing that played Happy Birthday over and over again until you smashed it with a water bottle. I dunno, but made for some good memories!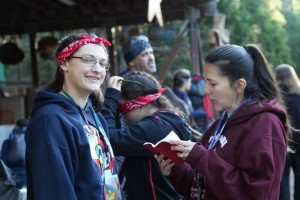 -Ward Wrap Ups. So much fun when you have another adult from your ward to do it with. Thanks Nancy!
-Skits. How do people come up with these? So.Creative.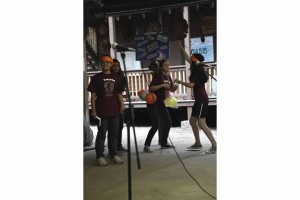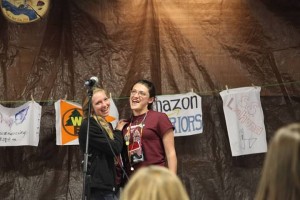 -Spiritual night. The YCL's did such a good job on Friday night of bringing the spirit into camp before
the testimony meeting that half the girls were in tears before the testimonies even started. It was an amazing end to an adventurous week.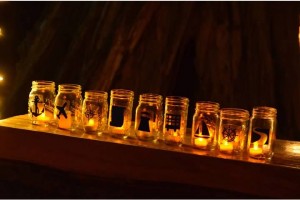 (we talked a lot about symbols and had these jars lining the path to the place we did our testimony meeting)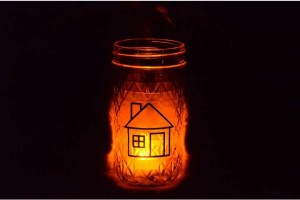 (a reminder that our heavenly home is our ultimate goal)
-Perfect Match. Being able to work with Kristen Winmill was AWESOME!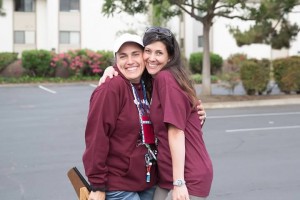 -7-11. Planning to stop at all the 7-11's on the way back from camp because it was free slurpee day. The girls could only manage to drink 2. After that they opted not to stop at any more 7-11's.
While we were at girls camp Scott managed things here at home. Lots of swimming went on that week. Movie watching was high on the list too. But I came home to a happy, clean family. What more could a mom want??
July also found me striving to keep Jaime's 16th birthday party a surprise. It was scheduled for Wednesday July 15. I thought I had done a pretty good job only to find out that weeks before someone had spilled the beans to her. Oops! But it was fun to try. She had 20 friends show up to help her celebrate. Lots of food, laughter and teenager silliness. I made a slideshow of Jaime's life and every person at the party was in at least one picture (except for 2 kids that she just met this last year). It was funny to see the teenagers laugh and "ooh" and "Ahh" at each others little kid pictures. AND for the first time ever, we got a neighbor call! It was 10pm and we got the call. Fortunately for us most of the parents were there and the party was over in about 15 minutes. Guess you can just call us the party house.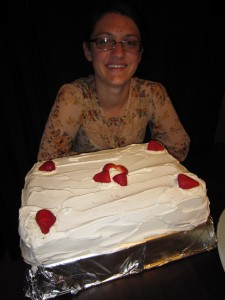 She wanted a homemade strawberry shortcake cake. It came out super good.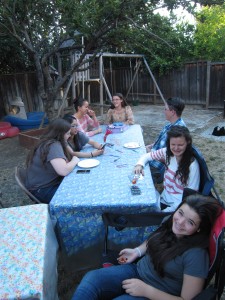 Most of the party was just outside. Love our backyard!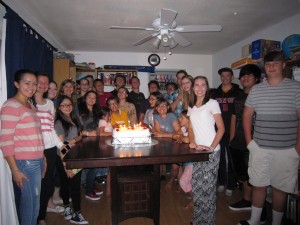 Happy Birthday Jaime!
July 20th was the first day of scout camp. I bid my boys farewell at 4:15am. They had a blast. I should let Scott do a write up of that and then post it. We spent the week eating cereal, puking and watching lots of movies; maybe more than Scott and the kids did…. Oh ya and throw in Swim Team Championships and bam you have my week without my boys.
July 20 also marked a very special day: The day of Jaime's behind the wheel driving test. In her own words "The driving test went great! Until I failed before I left the parking lot." She is taking it in stride. I guess she went off the curb on exit and that is an automatic fail. Oops. We feel there must be some reason for the fail. I can honestly say that she has never gone off the curb in the little car. In the van she has gone off the curb LOTS of times. But not in the car. It was a very unexpected mistake. After we got in the car to leave we did the exit 3 times and not once did she go off the curb.
Jaime takes the test again August 14.
That same day she had scheduled a shopping date with a really good friend of ours who was taking her out to get a "first date outfit" and make-up. Rayne Adams-Hart is an amazing woman that we have known for 17 years. She used to babysit Jaime when she was little. Anyway, Rayne told Jaime a few years ago that when she was ready to wear make-up to call her because "obviously your mom is not going to be any help". I took no offense to that because she was totally right! Jaime never forgot that and Rayne kept her promise. They shopped and make-up'd for like 7 hours. Good for them! Luv you Rayne!!
Milo had his monthly ortho appointment and it was decided that his lower jaw is growing too fast and so to try and keep the upper jaw "growing" with braces is too crazy. So they are just going to keep the braces on until his last tooth grows in and then they will take the braces off and give him a retainer to keep the teeth in place. Then when they do his last surgery around 17, they will fix the upper jaw issue and then they will do full mouth braces. Yay!! I'm so done with these monthly visits that seem to be making no progress because the reality is they are NOT making any progress since the upper jaw doesn't grow.
On July 29 Milo and Jaime left for Utah. They flew into Las Vegas where grandma and grandpa Thompson picked them up and drove them to St. George. More on their trip when they get back.
On July 30 we went to an A's game. The game itself was a disappointment, but going to games is always a fun experience and we love it. The Brack girls, Sophie and Emi, came with us and that was super fun. We miss seeing them more often. They stayed the night and the next day was full of bike riding, nail painting, kick the can and swimming. So.Fun.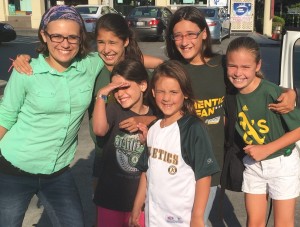 That's it. July in a nutshell.
---
Comments are closed.