With school starting, September was a slower month for activities but busier because of school.
-Jaime is a Junior and still loves CAVA (K12). She is taking Chem up at the local Jr. College and loving it. Her 3 dance classes started too. I'm so glad she can drive now!
-Alix is a Freshman and is still doing COIL and loving it. She takes 2 classes there and Geometry at the local high school. She is still training with the basketball team but that might not actually work out since it conflicts with her mock trial competitions. So glad Jaime can drive!!
-Milo is in 7th grade and taking it slow. He is progressing fast in Scouts and LOVES it. He's also learning to type this year and to LOVE math…
-Niah (6th grade), Afton (4th grade) and Keri (2nd grade) are progressing nicely. They are at a fun stage where they love to learn still and it's not hard to get them to do their school work each day.
Afton celebrated her 9th birthday. It landed on Labor Day so Scott was home all day. That was fun for all of us.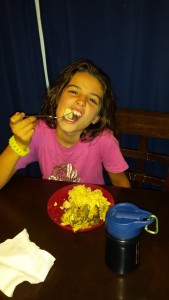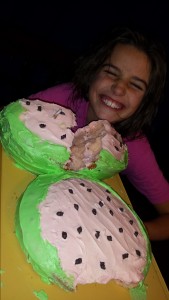 Afton wanted a watermelon cake.
So I bought watermelon flavored
Kool Aid and added it to the cake
mix and frosting. Then I tried
to make it look like a sliced watermelon.
But it broke in half. Oops…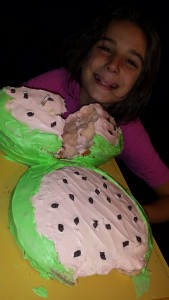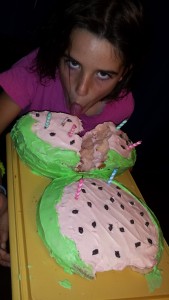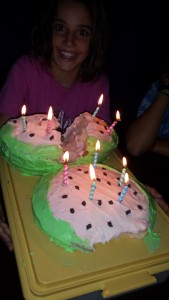 Afton loves to make goofy faces.
She's pretty good at it…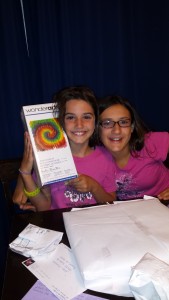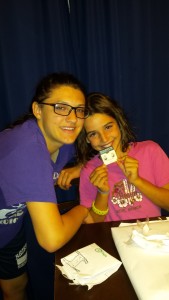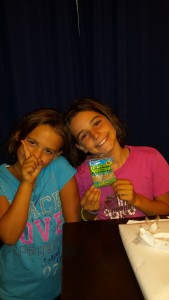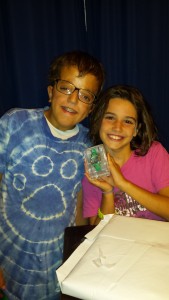 Her siblings always try hard to get her stuff she will like.
I appreciate that about our kids. They love to make each
other happy when picking gifts for each other.
In order to graduate from high school here you have to do X number of service hours before your senior year. Milo has to do a ton of service too because of scouts. SO… we do a lot of service around here. This month we did a family fun run. We helped with set up and cheering for runners along the trail. Alix and I also helped with the after run food station.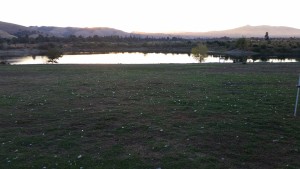 Sunrises here are amazing. I love living here.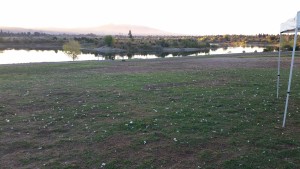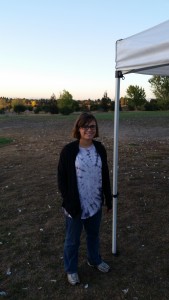 We had to set up about 50 easy ups
We are good at it!!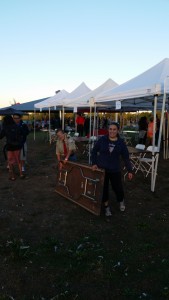 50 tables as well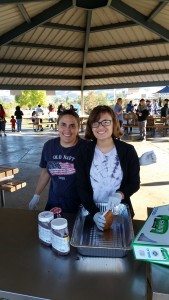 The food station set up was super fun actually.
Someone forgot the knife so Alix and I cut up
Watermelons with plastic knives…
Jaime and Keri participated in the local city days parade. They did a parade dance. They had so much fun. Seeing Keri out there was really cute. She looked so grown up dancing in that parade. She really isn't our baby anymore.
Scott and I celebrated our 17th wedding anniversary. We really wanted to try and go away for a weekend, but with his work schedule in September and school and and and we just didn't do it.
Milo advanced in rank to Life Scout. I finally gave up "doing it all" and asked a friend to sew on all of Milo's patches. He now has a scout shirt that is "complete" and a sash that displays all of his merit badges. He doesn't have a brag jacket or vanity vest, for his other patches, but I'm ok with that.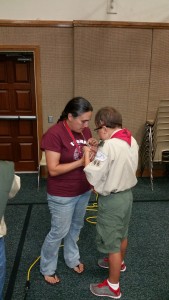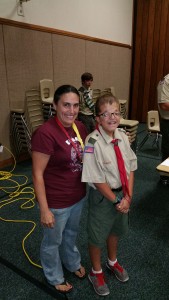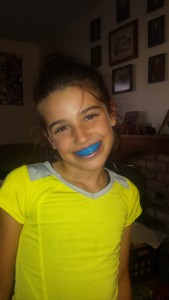 That is candy in her mouth. Uck!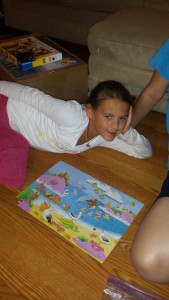 Keri has a new found love of puzzles.
---
One Response to "September 2015"